Registration information

Important dates
Early fee deadline – 1 March 2024
Late fee deadline – 1 March 2024 to 1 June 2024
Onsite fee – from 1 June 2024

Congress registration
•    Access to the scientific sessions on Wednesday, Thursday, Friday and Saturday
•    Access to the exhibition
•    Coffee breaks and lunch breaks
•    Welcome drinks on Wednesday late afternoon

Group registration
If you would like to register a group of delegates; please contact the congress office to organise a group registration via events.rha@radboudumc.nl

Exhibitor registration
All exhibitors are required to be registered and will receive a badge displaying the exhibiting company name. Two exhibitor badges will be given for the first 6 sqm booked and for every 3 sqm extra you will receive one additional exhibitor badge. Any additional exhibitors can be ordered via the congress website. Exhibitor registrations allow access to the exhibition area only and shall be used by company staff only. 
 
15th Congress of the European Skull Base Society, 5 - 8 June 2024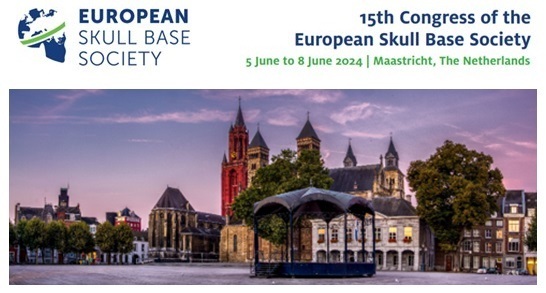 Registration website for 15th Congress of the European Skull Base Society, 5 - 8 June 2024
Lisette Schreuder, Project Manager, Bianca Gremmen, Project Officer and Judith van Werven, Project Officerevents.rha@radboudumc.nl
Lisette Schreuder, Project Manager, Bianca Gremmen, Project Officer and Judith van Werven, Project Officerevents.rha@radboudumc.nlhttps://www.esbs2024.eu/142800
2024-06-05
2024-06-05
OfflineEventAttendanceMode
EventScheduled
15th Congress of the European Skull Base Society, 5 - 8 June 202415th Congress of the European Skull Base Society, 5 - 8 June 20240.00EUROnlineOnly2019-01-01T00:00:00Z
MECC MaastrichtMECC Maastricht6229 GV Maastricht Netherlands