General information

About Maastricht
Maastricht is known for her colourful region, the backyard of Maastricht. Find out what you have to see! Discover the most beautiful, fun and fascinating places in South Limburg and Euregion!
Visit Maastricht | Visit Maastricht

Access to Session Rooms
Only congress delegates with valid badges will have access to session rooms. Seating is regulated on a first-come, first-served basis. We recommend delegates to go to session rooms well in advance.
Due to safety regulations, doors will be closed when all seats are taken. It is not allowed to stand in the aisles of the rooms.

Catering
Catering will be provided during congress hours. If you have any dietary requirements, you can indicate this via the online registration form. 

Certificate of attendance
Every congress delegate will receive a certificate of attendance after the congress. Before obtaining your certificate . you will be requested to complete the delegate evaluation form. 

Cloakroom and Luggage
You can store your coats and/or luggage in the cloakroom during the congress. Please  
note that this cloakroom is unattended.

CME Accreditation
An application has been made to the EACCME® for CME accreditation of this event.

Currency
The currency in The Netherlands is the Euro (€).

Disclosure Request
At the beginning of their presentation(s), speakers are requested to disclose any affiliations with industries related to the topics of their lecture to the audience. An affiliation can be: being a member of the advisory board or having a consulting agreement with a specific company.

Electricity
The standard Dutch electricity voltage is 220V (50Hz). While this is the standard voltage for Europe, it is significantly higher than many other countries so check which appliances are compatible.A two-pin continental plug is used. Visitors from Switzerland, the UK and Ireland will need a plug adaptor for electric appliances, while those from North America need a power converter to use 110/125V appliances.

Emergency Information and First Aid
There is a First Aid unit in the congress venue. In case of emergencies inside the congress venue, contact one of the organisers.
Outside of the MECC congress venue, please call the general emergency number:
•    112 - Ambulance and health emergencies, Fire brigade and Police

Exhibition
A technical exhibition will be held during ESBS Congress 2024. Technical equipment manufacturers, pharmaceutical companies and scientific publishers will exhibit during the congress. The exhibition floor plan and list of exhibitors is presented under the header 'sponsoring' on this website.

Insurance
The organisers do not accept liability for any personal damage. Participants are advised to arrange their own personal insurance.

Language
The congress sessions will be conducted in English. No translation will be provided.

Opening hours
Below you will find the information about the opening hours of the congress and its Exhibition. Please bear in mind that this information may change as we continue to finalise the programme of the event.
Wednesday 5 June 2024
10.00 – 18.00 hrs. Registration
12.30 – 18.00 hrs. Scientific sessions
13.00 – 18.00 hrs. Exhibition
Thursday 6 June 2024
08.00 – 18.00 hrs. Registration
08.00 – 18.00 hrs. Scientific sessions
09.00 – 18.00 hrs. Exhibition
Friday 7 June 2024
08.00 – 18.00 hrs. Registration
08.00 – 18.00 hrs. Scientific sessions
09.00 – 18.00 hrs. Exhibition
Saturday 8 June 2024
08.00 – 13.00 hrs. Registration
08.00 – 13.00 hrs. Scientific sessions
09.00 – 13.00 hrs. Exhibition

Wi-Fi
There is free Wi-Fi in the MECC congress center. Please check the signs onsite for the Wifi code. 
15th Congress of the European Skull Base Society, 5 - 8 June 2024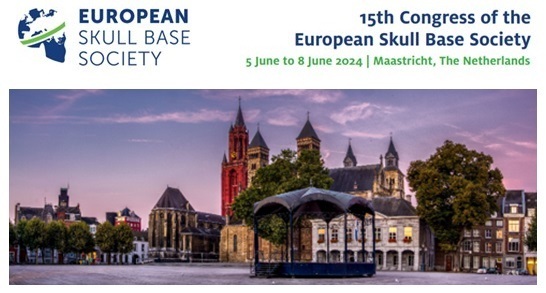 Registration website for 15th Congress of the European Skull Base Society, 5 - 8 June 2024
Lisette Schreuder, Project Manager, Bianca Gremmen, Project Officer and Judith van Werven, Project Officerevents.rha@radboudumc.nl
Lisette Schreuder, Project Manager, Bianca Gremmen, Project Officer and Judith van Werven, Project Officerevents.rha@radboudumc.nlhttps://www.esbs2024.eu/142800
2024-06-05
2024-06-05
OfflineEventAttendanceMode
EventScheduled
15th Congress of the European Skull Base Society, 5 - 8 June 202415th Congress of the European Skull Base Society, 5 - 8 June 20240.00EUROnlineOnly2019-01-01T00:00:00Z
MECC MaastrichtMECC Maastricht6229 GV Maastricht Netherlands